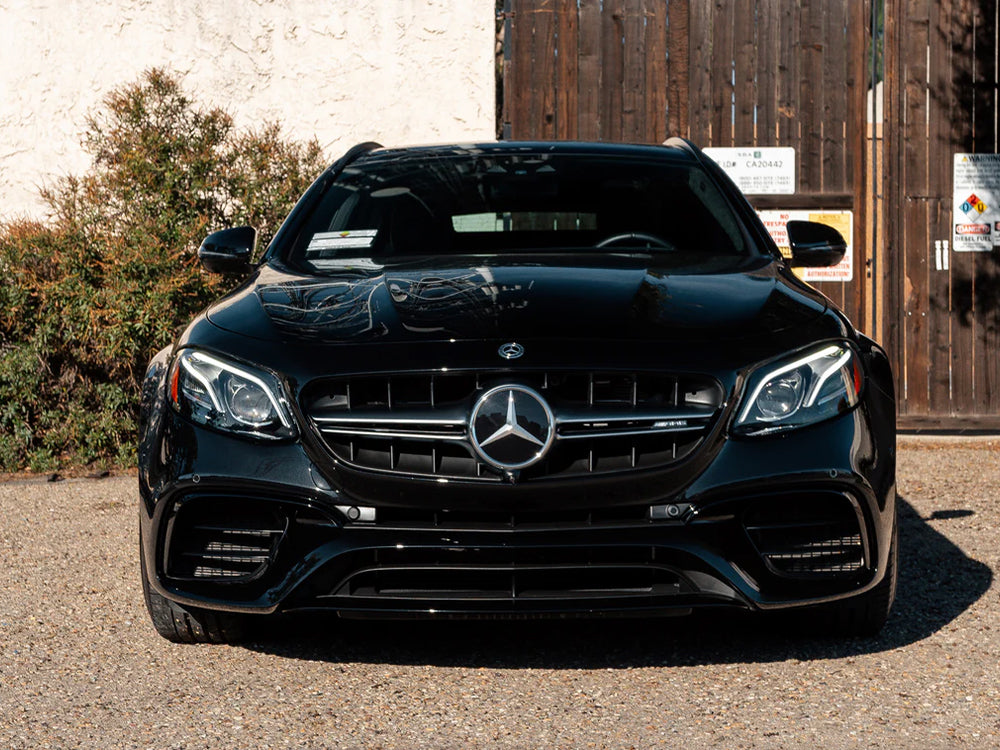 New Vehicle Protection Detail


Hello everyone, I'm Jeremy Stevens, owner of Stevens Detailing and Shine Supply. In this post, I will discuss what our New Vehicle Protection Detail is, why it's important, what our service provides as compared to other detail services, and how to maintain it.
You may be thinking, "Why do we need to perform this type of detail on a new vehicle?"
In general, don't wait until your vehicle has years of  UV exposure damage and swirl marks from improper washing. Rather, give your vehicle a New Vehicle Protection Detail to protect it from UV damage and paint swirls, to begin with. The New Vehicle Protection process consists of an initial deep paint decontamination process. Secondly, we polish the surfaces, bringing out the paint's true clarity and gloss. Lastly, we protect it with a ceramic coating which creates a sacrificial barrier that will take the abuse which typically happens directly to your paint. All in all, this process can take up to 2 full days due to the extensive preparation and attention to detail.
What does the New Vehicle Protection Detail consist of?
Paint Decontamination Wash and Clay Bar:

First, we use  Smooth Move to decontaminate the paint. This process removes the embedded surface contaminants that simply using a clay bar alone won't accomplish. In addition to Smooth Move being acid-free, it's also pH balanced, making it safe for painted surfaces. Secondly, we use Shine Mist as well as a Mild (white) Clay Bar, to pull the remaining iron deposits and "fall out" from the paint. The result leaves the surface of your paint smooth to the touch and ready for polishing.

Wheels and Wheel Wells Deep Cleaned:
For deep cleaning the wheels, we use our Cool Guy to dissolve brake dust and remove grime buildup. Cool Guy penetrates further into the surface to remove the iron deposits that aren't visible to the human eye. Left unattended, brake dust can corrode your wheels, causing permanent damage. Regular use of Cool Guy wheel cleaner helps brake dust from building up on your wheels. Cool Guy wheel cleaner is acid-free and pH blanched making it safe to use on ceramic coated wheels.
Tires Cleaned and Conditioned:
In addition to deep cleaning the wheels, Stevens Detailing uses Wise Guy tire cleaner to easily strip built-up grime and old dressings from your tire's surface, leaving it clean and ready to be Decked Out with dressing. Most tire dressing "sling" comes from applying dressing to tires that haven't been cleaned properly. The dressing is sitting on top of the old dressing rather than bonding directly to the tire. This causes it to fling off when driving. Make sure you clean your tires weekly with Wise Guy tire cleaner to prevent this from happening.   Wise Guy is also excellent for cleaning the wheels on a regular basis, on wheels where the brake dust build-up is moderate. Wise Guy is not safe for ceramic-coated wheels. Use our Cool Guy wheel cleaner for ceramic coated wheels.
Stevens Detailing uses a light compound and polish that removes light defects and enhances the paint to optimal clarity and gloss:
This next step is undoubtedly one of the most important steps in the preparation process of our New Vehicle Protection Detail. We use a light compound with a DA polisher (not a rotary buffer!)  to safely remove any defects found in the paint (yes, ALL new vehicles have light defects that need to be removed). Second, we polish the paint to create the ultimate clarity and gloss. The three main Shine Supply products used during our New Vehicle Protection process are Classic Cut, Classic Polish Classic Finish Plus.
Superior protection of the paint showcases maximum shine and provides easy maintenance:
We apply two layers of ceramic coating with our New vehicle Protection Detail. The first layer is applied with Beadlock Pro Marine, after that, we apply a second layer of high-grade Beadlock Pro. For tips and tricks on applying ceramic coating OR if you're wondering why we would apply a marine-grade ceramic coating to a vehicle, please visit our Shine Supply YouTube channel.
Every little detail matters:
We remove the wheels from the vehicle so we can apply ceramic coating inside the barrels and then we ceramic coat the wheel faces. Our first step before we apply ceramic coating to the wheels is wiping them down with Shine Supply Throw Back. This process completely removes any oils or residue preparing the surface for ceramic coating. Throw Back paint cleanser helps create a better bond for the ceramic coating. Secondly, we apply Shine Supply Beadlock Wheel and Suspension Coating to the inside & outside of the wheels. In addition to our process, you will want to keep the wheels looking fresh and new. To maintain this, you will use our Punch-It Synergy Spray, to prolong and enhance the effects of the ceramic coating. Punch-It synergy spray is a water-based ceramic fortified detail spray that helps keep the wheels looking incredible. Always apply after you've cleaned the wheels.
One of the final steps in the New vehicle Protection Detail process is coating the windows:
At Stevens Detailing, we use a glass specific 2 part ceramic coating to exterior glass. This provides easy cleaning of the exterior glass along with a limited need for windshield wipers during rain.
--------------------------
Let's answer a few commonly asked questions we receive at Stevens Detailing:
Q: Are professional ceramic coatings the same as the ceramic spray products typically found at the store? What's the difference?
A: Ceramic detail sprays are what we call "enhancers" or "boosters". The intended use, of these sprays, is to boost the gloss and hydrophobic properties of an existing pro ceramic coating. These sprays also provide short-term protection (2-3 months). They are essentially a more durable version of spray wax. They do not compare to the protection and benefits of a professional ceramic coating. Professional ceramic coatings provide a long-term hardened layer of protection which is only found in solvent-based professional ceramic coatings, like Shine Supply Beadlock PRO Marine, Beadlock PRO, Beadlock Wheel & Suspension, and RELOCK express ceramic coating.
--------------------------
Q: What are the ceramic coating warranties and guarantees?
A: In general, don't believe all the claims made by ceramic coating manufacturers. Experience and proven results always cancel or override a product's marketing claims. Find yourself a trustworthy detailer and follow their advice. A properly maintained ceramic coating is visually rewarding. If your vehicle's protection is in place but the paint looks horrible, you're not going to be happy. Proper maintenance will result in your vehicle looking great and your investment rewarding you long term.
--------------------------
Q: If it sounds too good to be true, should I trust that it's true?
A: Ceramic coatings are only as good as your preparation and maintenance. If it sounds too good to be true, you most likely will not be happy with the results. Claims stating ceramic coating won't scratch, swirl, and never needs anything again are false. Swirls and scratches are reduced by a ceramic coating but they are only prevented according to how you wash and maintain the vehicle.
--------------------------
Q: How do you maintain ceramic coating?
A: The first thing to remember when investing in ceramic coating, maintenance is equally important as the coating itself. If you neglect proper maintenance, in due time, your product will not perform to the highest level or reach its fullest potential. We recommend having an Annual Maintenance Detail performed on your ceramic coating. At Stevens Detailing, during our Annual Maintenance Detail, we decontaminate the surface and give it a light polish with our Slick Back primer polish. This rejuvenates the coating along with clearing up any minor defects. The final step in the process is to build up the layer of protection with our RELOCK ceramic coating. In due time, you will need maintenance performed on your ceramic coating. This is a service you can perform yourself or in the event, you'd like to have it done professionally, you can bring it to Stevens Detailing.
--------------------------
Let's go over some final thoughts if you're looking for this type of service:
Do not have this service performed at the dealership and added to your monthly payment. It's important to realize, you're overpaying for that type of service and you're not getting the same preparation process or final product.

Find a reputable detailer.

Ask questions about the detailing process, the products used and what will be the preparation process. Pricing will always define the process. If you find a cheap price, there's a good chance you will get a cheap process. In this case, you get what you pay for.
For more information on our detailing services, navigate to the different detailing services here on stevensdetailing.com, and check out our proper maintenance and "product charts", for your ceramic coating at shinesupply.com.
In conclusion, I hope this post gives you the confidence in finding the right solution for your next vehicle protection detail. If you enjoyed this, please sign up to receive our email newsletter. We hate spam emails too, we only send informational emails to our customers.
- Jeremy Stevens
---