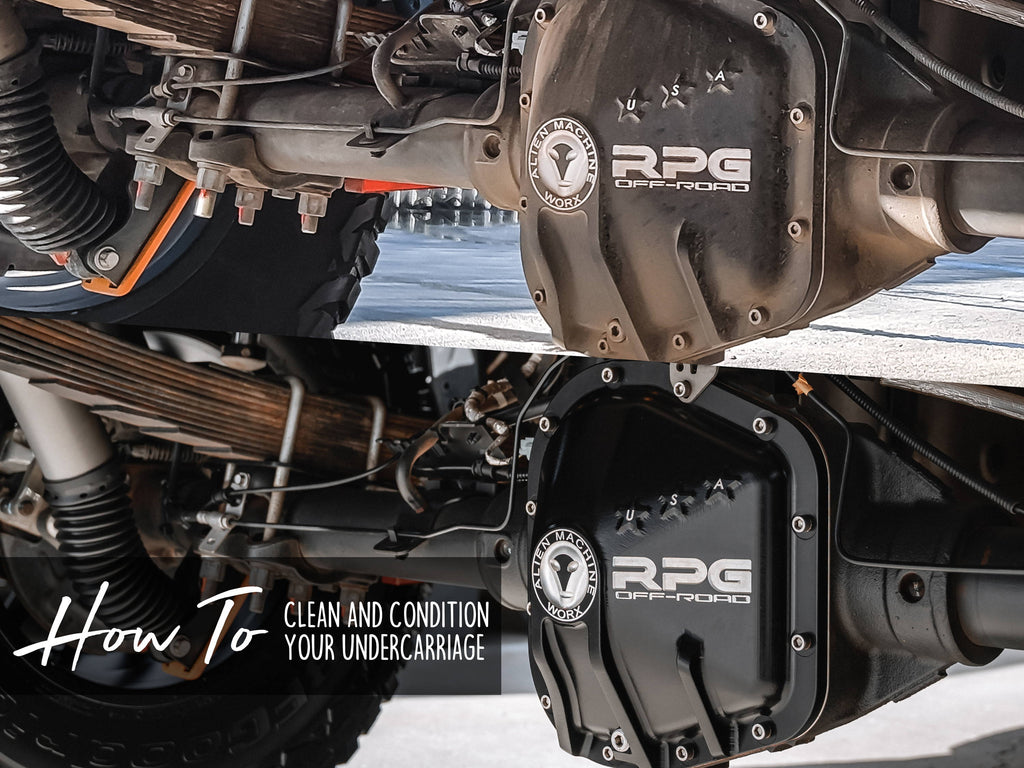 How to clean and condition your undercarriage
Do Not Let Your Undercarriage Ruin Your Vehicle's Look
Posted on January 16, 2023 by Colby Stevens
The undercarriage of a vehicle takes the most abuse out of any part of the vehicle, and it can really ruin the look of your ride if it is not cleaned and conditioned properly
In this blog we will cover what products you will need along with the proper steps you will follow in order to clean and restore the undercarriage of your vehicle!
Why it is Important to Use Proper Products & Methods
When it comes to cleaning and conditioning your undercarriage some of you may have heard or are using degreasers and tire dressing, although those products may work for that time being, they will not perform to the extent that these proper products do.
Degreasers vs. Solution Multi-Purpose Cleaner
Degreasers are very aggressive and clean by being a high PH, although this may clean your undercarriage effectively, if it comes into contact with aftermarket parts they may end up getting stained. Solution cleans by emulsifying rather than burning or with a high PH, in other words this product cleans very well however you will not have to worry about the product staining any of your billet, aluminum, powder coated, or anodized parts.
Tire dressing vs. Classy Chassis
It is very common for tire dressing to be used to dress an undercarriage, although this product may look great to begin with, it will not only break down with water, but it will also attract dust to your undercarriage. Since Classy Chassis is solvent based, it will not break down with water and will last weeks, it will also create a sacrificial barrier over your undercarriage components allowing it to clean up a lot easier when you go to wash it. This product will also level out very nicely on any shocks, control arms, or aftermarket suspension components without leaving any tacky residue behind.
What you will need to clean & restore your undercarriage
Solution Multi-Purpose Cleaner
The first thing you need will be a cleaner, and Solution Multi Purpose Cleaner will not only effectively clean your undercarriage, but it will not harm or stain any of your aftermarket components. It can also be diluted based on how dirty your undercarriage is.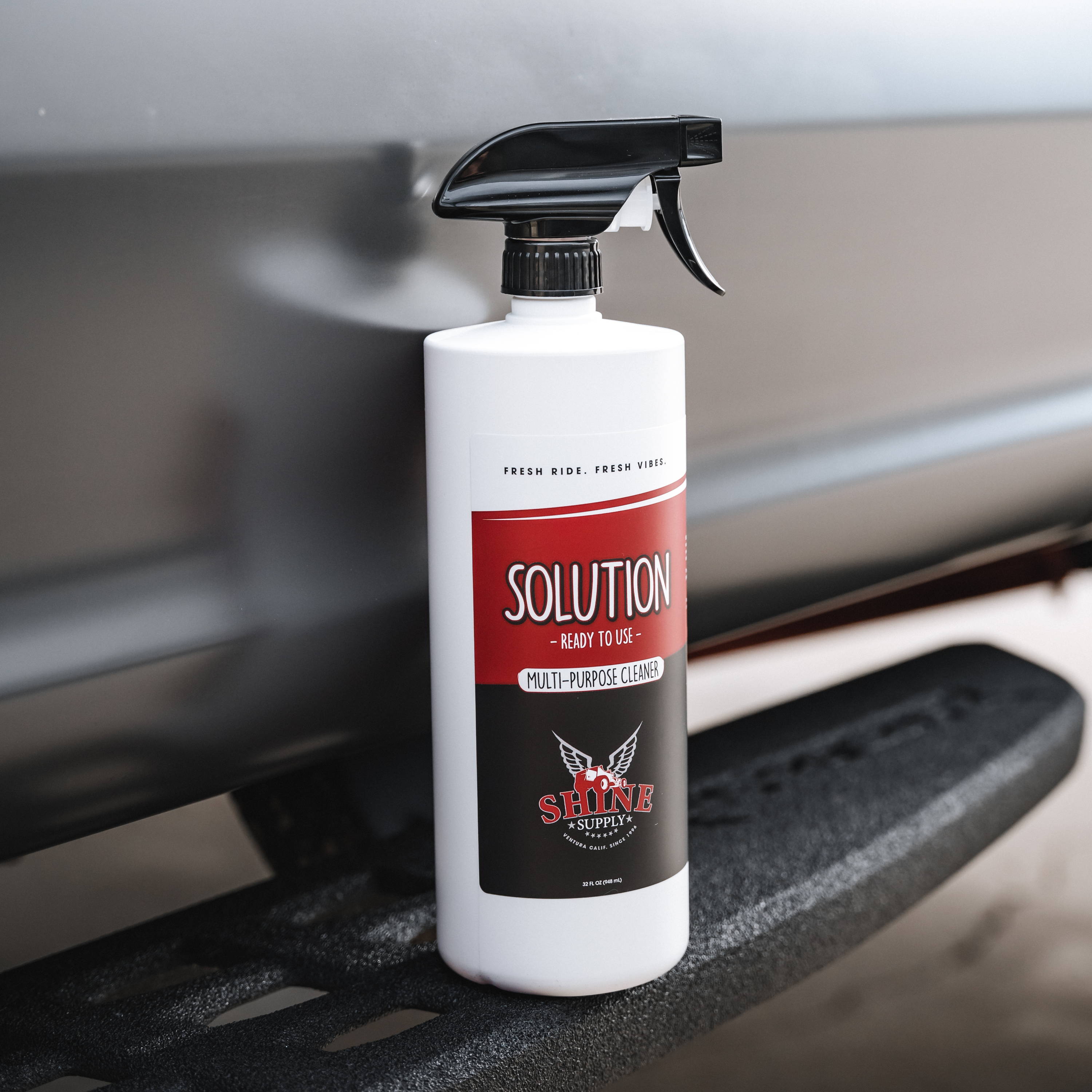 Classy Chassis Undercarriage Spray
After cleaning the undercarriage you will want a product that can protect and restore components like the frame, rear diff, wheel wells, shocks, control arms etc. Classy Chassis will do just that, this product will restore that nice dark look of your undercarriage and due to its solvency, it will allow your undercarriage to stay rejuvenated and clean up easier each wash.
Undercarriage Cleaning & Conditioning Kit
Undercarriage Cleaning & Conditioning Kit has everything you will need in order to clean and restore your vehicle's undercarriage. This kit contains the Solution, and Classy Chassis to clean and restore the undercarriage, along with the brush to use with Solution, and the applicator pad to level out the Classy Chassis.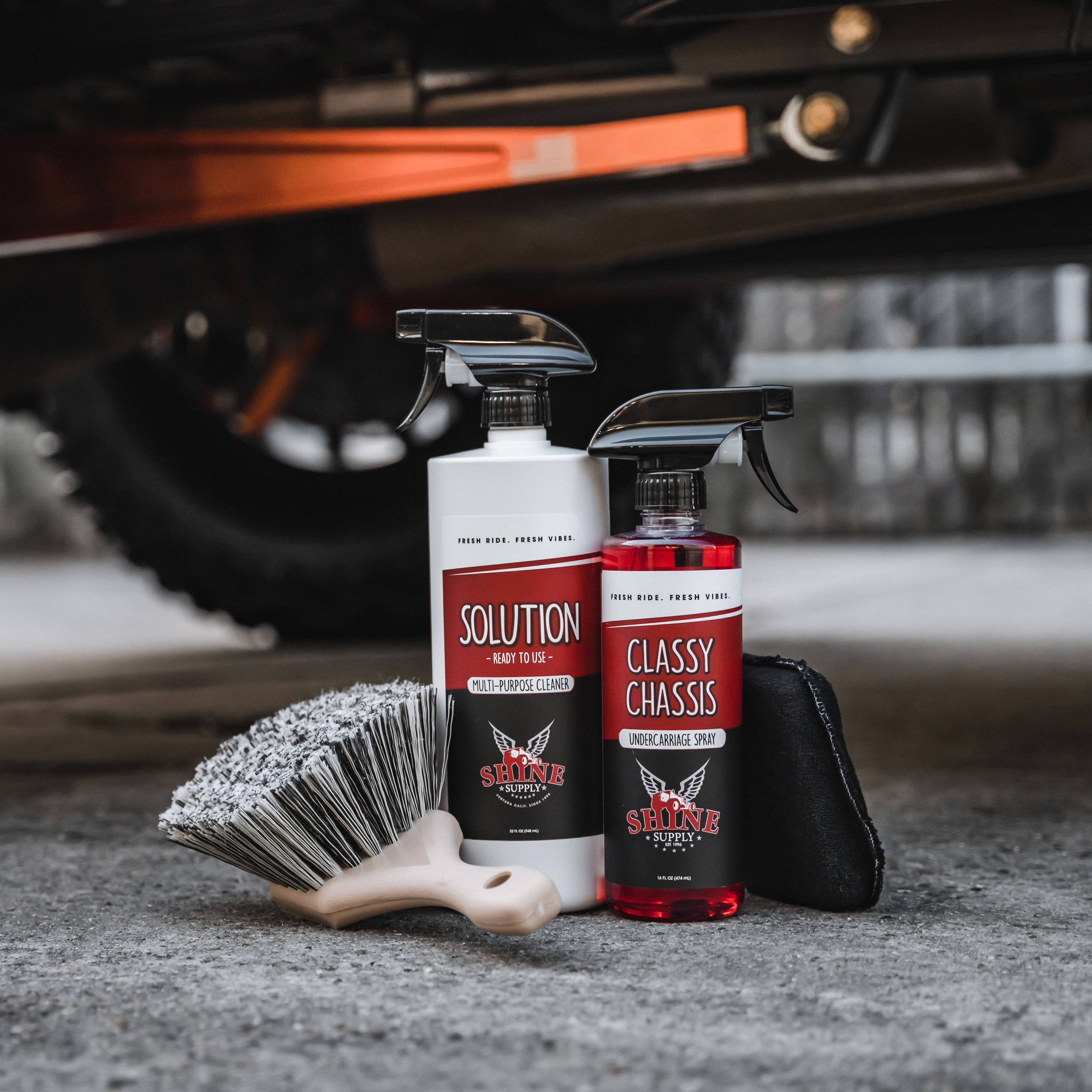 What steps do I take to clean my undercarriage?
Pro Tip: Your wheels and undercarriage are always recommended to be cleaned first prior to washing the paint. Since the wheels and undercarriage are time consuming, you do not want any product like soap drying on the paint as you are cleaning your undercarriage.  
Step 1: Pre-rinse the undercarriage to remove any loose debris off the surface.  
Step 3: Use a Soft Bristle Brush, and agitate any undercarriage components that are accessible or excessively dirty.
Step 4: Once the undercarriage has been cleaned and scrubed, rinse off the Solution.
Step 5: Wash and dry the exterior of the vehicle.
Step 6: After the undercarriage is somewhat dry, spray Classy Chassis directly onto the undercarriage components: wheel wells, frame, rear diff, shocks, control arms, etc.
Step 7: Allow the product to soak in and set up for 10-15 minutes.
Step 8: Using an Applicator or Soft Brush, even out the Classy Chassis on the undercarriage components to get that nice level look.
Step 9: Observe and enjoy your clean and protected undercarriage!
Undercarriage YouTube Video
If you have any further questions regarding how to dial in your undercarriage or any questions regarding our Shine Supply products, please email us at products@shinesupply.com!
---