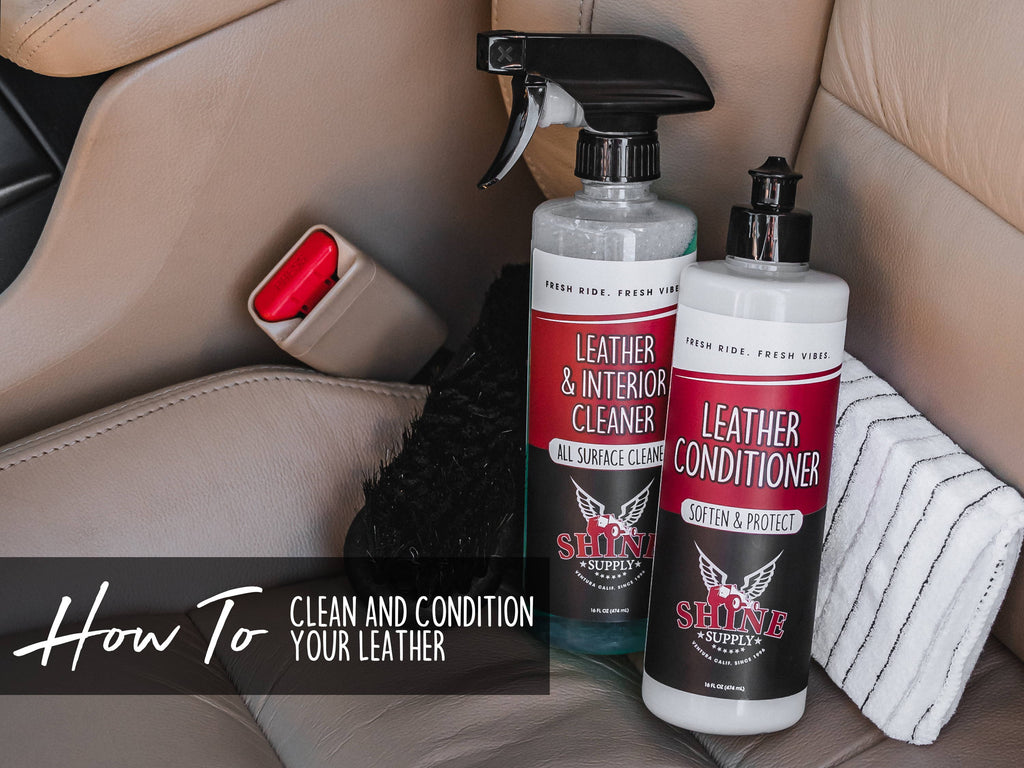 How to clean and condition leather seats
Leather Cleaning and Conditioning
Posted on February 10th, 2023 by Colby Stevens
---
You are in your vehicle 100% of the time you are driving, and over time your leather seats will begin to get very dirty and dry as you are getting in and out of the vehicle. For those of you who do have leather seats you know how uncomfortable they can be if they are dirty and stiff. In this blog, we will cover everything you need to know when it comes to cleaning, conditioning, and softening your leather seats!
---
Why It Is Important To Use Proper Products On Your Leather
All Purpose Cleaner vs Leather and Interior Cleaner
It is very common for one to use a standard All Purpose Cleaner when cleaning leather seats or interior surfaces. Although it cleans effectively, APC's clean by burning rather than emulsifying, which can dry out your leather and even pull color from the surface. Overtime you will begin to see your leather becoming very dull and begin to crack if you use a APC periodically on your leather seats. Instead of an APC, you will want to use a cleaner that is designated for leather surfaces like Leather and Interior Cleaner. This is an effective cleaner that cleans by emulsifying rather than burning, allowing you to clean your leather and interior surfaces without worrying about drying out or cracking the surface overtime.
Interior Dressing vs Leather Conditioner
Using an interior dressing that you would use on your plastic and vinyl may look great to begin with however it will not have the durability or performance that a true leather conditioner would. The benefits of using a product like Leather Conditioner will not only give you months of leather protection and conditioning, but it will also soften your leather if it has a stiff feel. The ingredients that Leather Conditioner contains are meant specifically for leather surfaces and will extend the life of your leather!
---
What You Will Need To Properly Clean & Condition Your Leather
Leather and Interior Cleaner
Prior to conditioning, you will always want to clean your leather with a safe. yet effective cleaner. Our Leather and Interior Cleaner is capable of removing even the toughest of stains from leather. Use with our Leather Cleaning Brush to create a light foaming action which gets into the grain and lifts out dirt easily.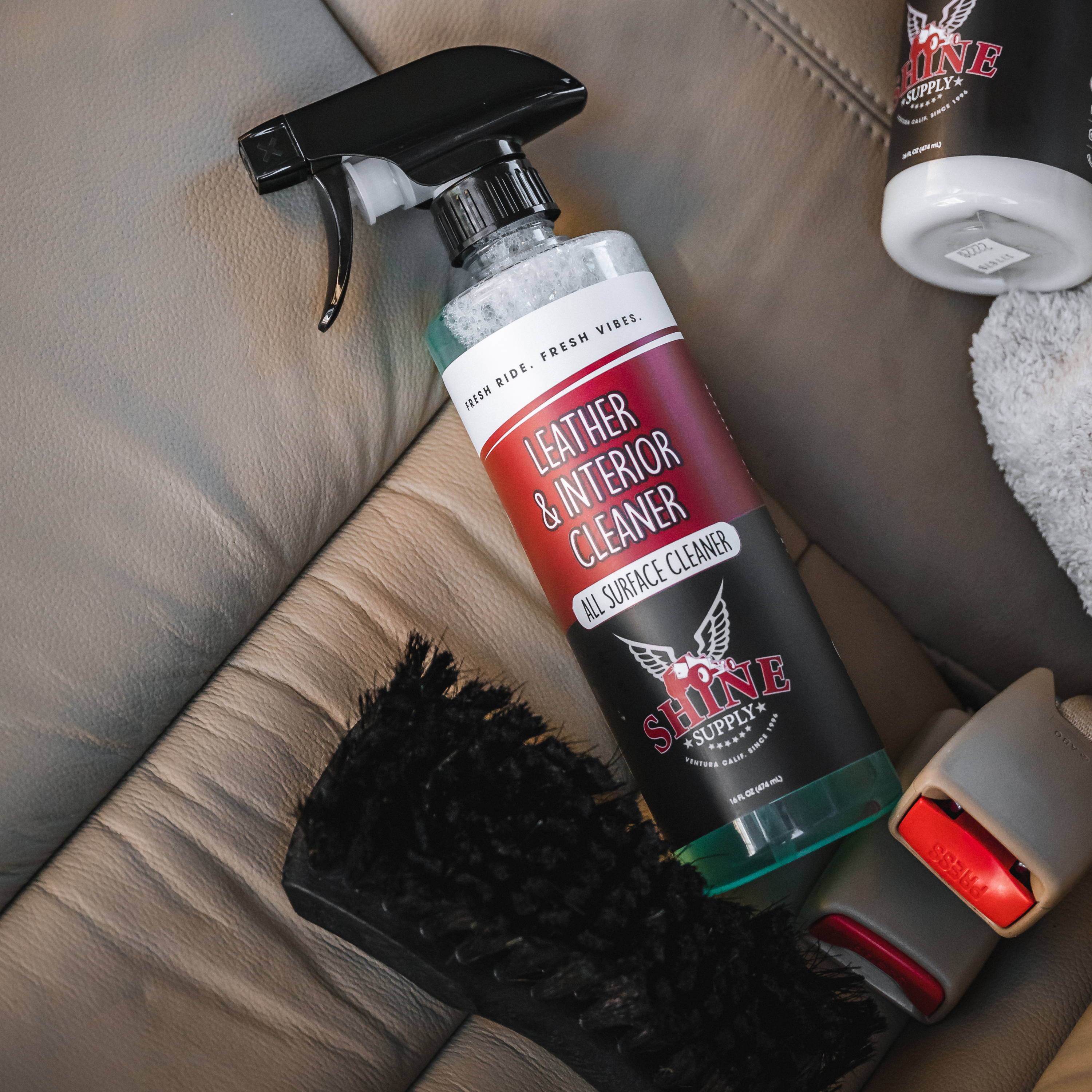 ---
After cleaning the leather it is necessary to condition it. Our Leather Conditioner not only feeds and conditions leather but will add a protective layer that repels stains and helps prevent wear and tear. Infused with a luxurious leather aroma which re-instates the smell back into old & new leather.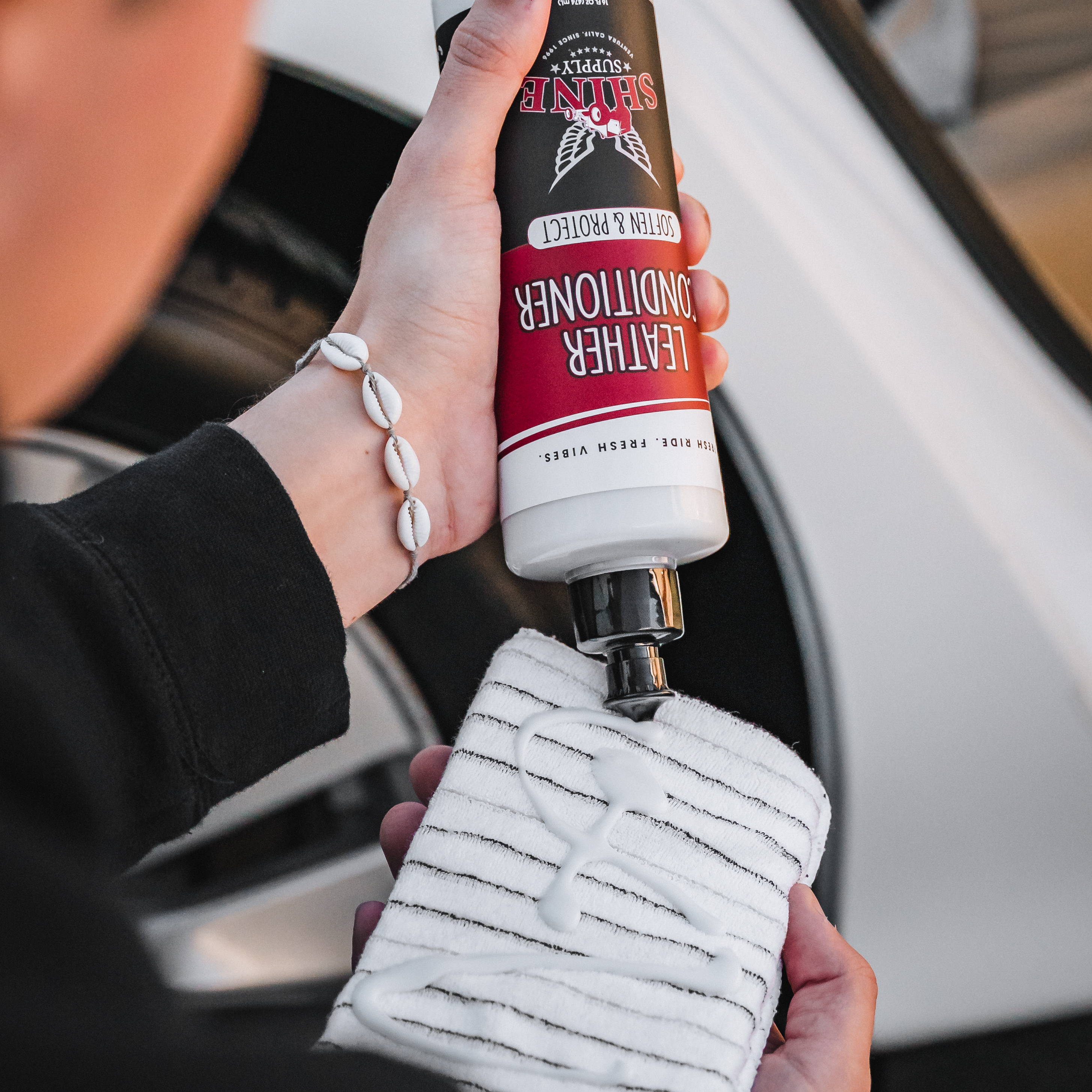 ---
Leather is very delicate and can be damaged very easily, therefore it is important to use a soft brush that will not harm or pull color from your seats. The Leather Cleaning Brush is made of real soft hair that effectively and safely, agitates your leather. Pair with Leather and Interior Cleaner for best results.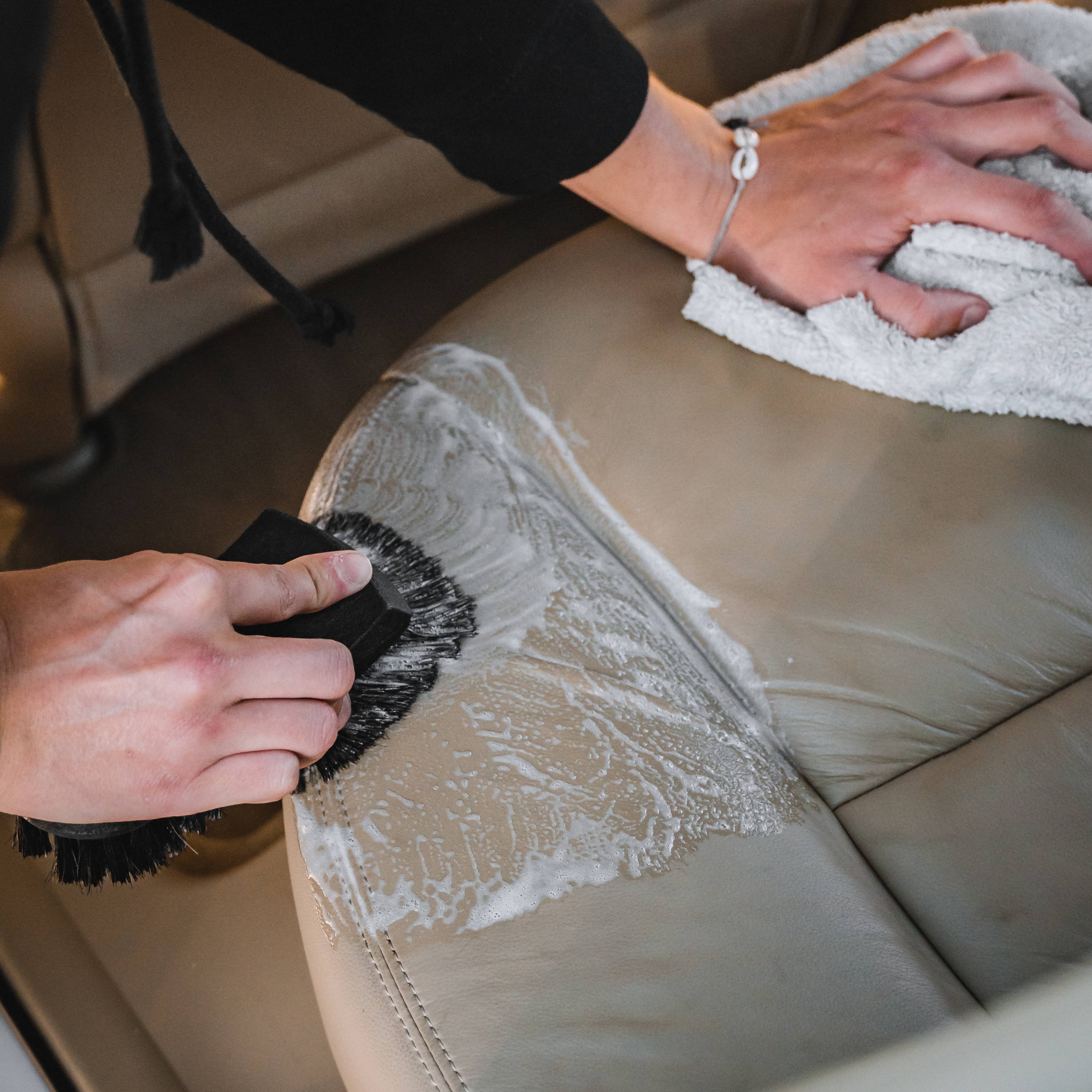 ---
When applying conditioner to your leather you will need a soft applicator pad. The White Applicator Pad works great at evenly applying the conditioner and it is very pliable when applying product to tight areas.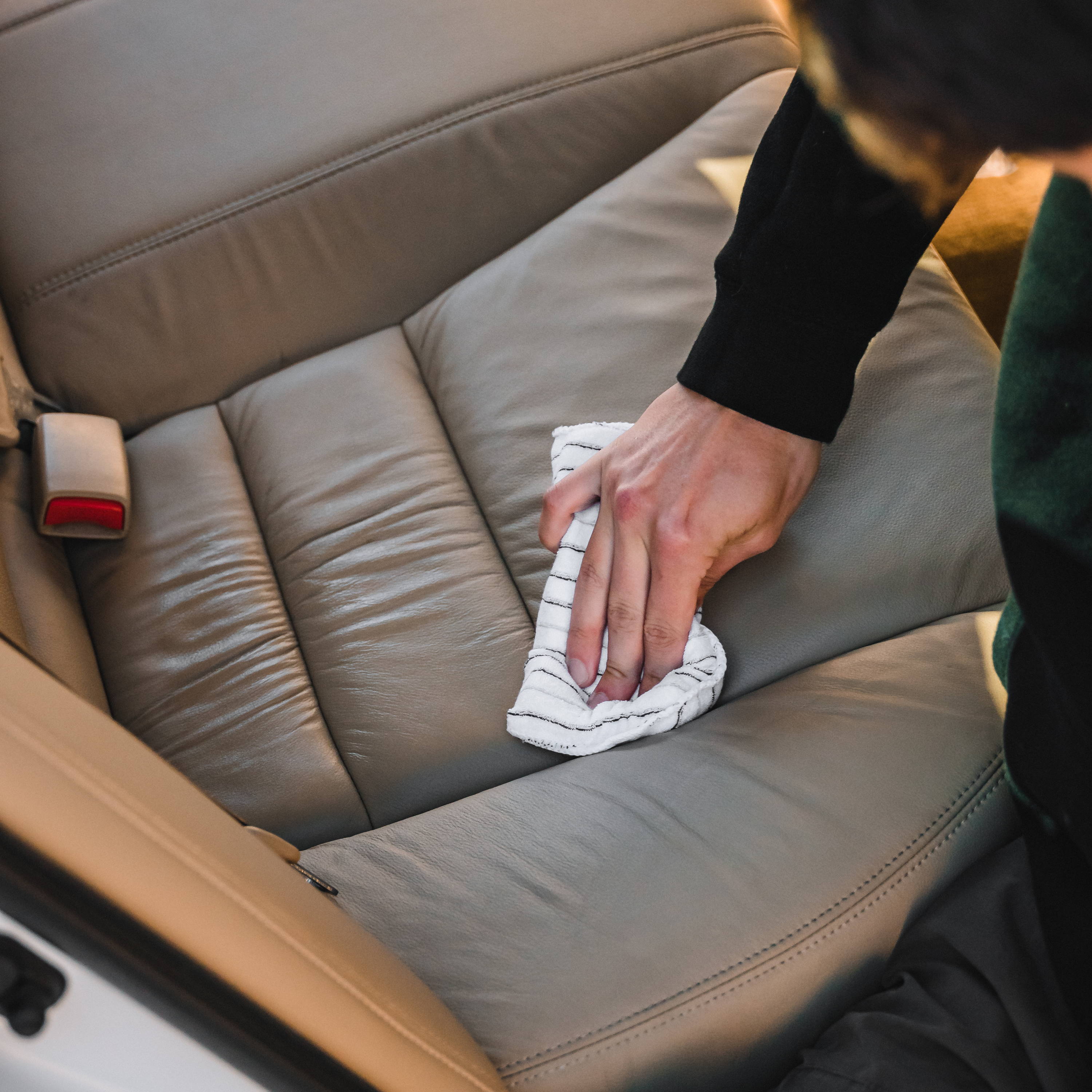 ---
The Leather Care Kit contains everything you need to safely clean and condition your leather. It comes with the proper cleaner, conditioner, brush, and applicator you will need to dial in your leather!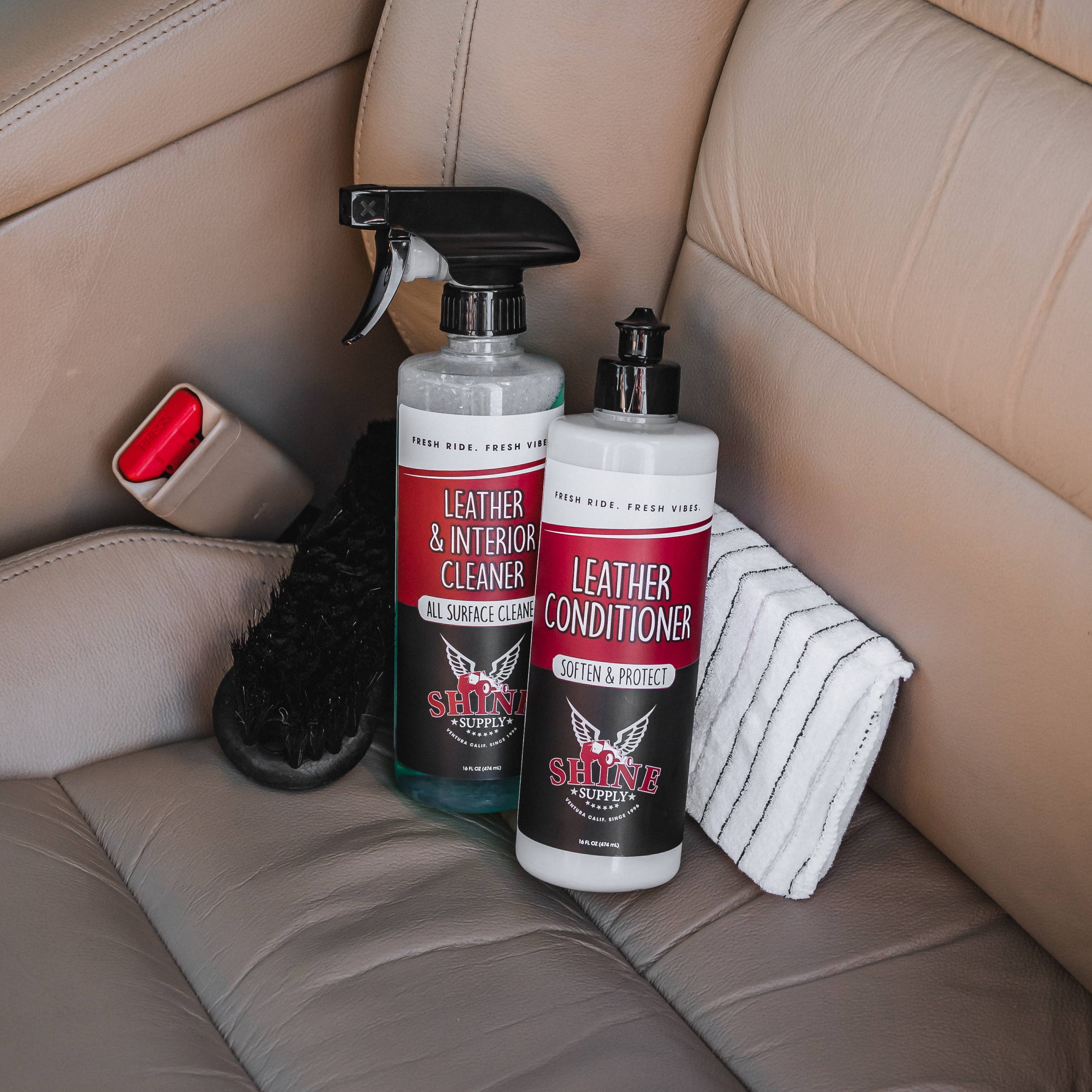 ---
Step by Step on Cleaning & Conditioning Leather Seats
---
Step 1: Vacuum the seats and make sure you have removed any loose debris in the cracks and crevices throughout the seat. 
Step 2: Spray Leather & Interior Cleaner directly onto the seat and into your brush, then begin to agitate the leather. Use light down pressure in circular motions to ensure you are getting full cleaning coverage and getting into the grains of the leather.
Step 3: Grab a clean microfiber towel, and wipe off the cleaner from the seats.
Step 4: Inspect the leather and ensure you have removed the grime and debris from the seat. If there is still some stubborn grime left over, repeat Step 2.
Step 5: After the cleaner has been wiped off and the seat is dry, apply a fair amount of Leather Conditoner to your applicator pad.
Step 6: If you have perforated seats, smoosh your applicator pad together until the conditioner is absorbed into your pad to ensure you do not push any product into the holes of the perforated seats.
Step 7: Apply the conditioner to the seats using your applicator pad, use straight passes to ensure you are getting even coverage throughout the seat. For perforated seats, start by applying the conditioner to a non-perforated section of the seat, then proceed to the perforated sections to ensure no product is pushed into the holes.
Step 8: Inspect the seat and make sure there is no missed or high spots from the conditioner.
Step 9: Proceed to the next seat using the steps above!
---
Leather Care YouTube Video
---
---
---
---